The town now known as Biddulph was created in 1897 when the villages in the Biddulph valley were joined as one Urban District.  The villages are Biddulph Moor, Biddulph Park, Brown Lees, Gillow Heath, Knypersley and Bradley Green – the place where the town centre now stands and which now no longer exists except in people's memories and in the name of a High Street pub.
In 2003 the Town Council asked for ideas for village signs which would represent the character of each of these areas.  The following were chosen and will be manufactured and erected by the council when funds allow.
All the signs have features in common and are intended to give information about the history and geography of their area.  Each sign has a frame which relates to some aspect of the "village", each sign contains the picture of a building in the area, if there is a coat of arms which belongs to the area it is shown on the sign.  Any special feature of the area is included and all the signs have decorative trees which are to be found within the "village".
Village signs explained
Map references (OS Landranger series 118) are included to help anyone who would like to visit the feature mentioned.  Some sites are private property and it is expected that this privacy is respected by visitors.
Biddulph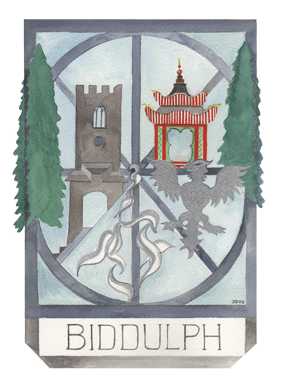 This sign incorporates features from other areas.
Frame: Elongated winding wheel from mine workings (See original in the Town Hall garden (Map ref. 884 577)
Building: St Lawrence's Parish Church (Map ref. 890 591)
Feature:  China, Biddulph Grange Gardens, National Trust (Map ref. 893 593)
Feature: water to represent  the wells, spouts and source of the River Trent
Trees: Wellingtonia found in Biddulph Grange Gardens, National Trust (Map ref. 893 593)
Biddulph Moor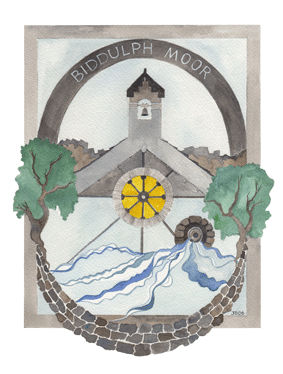 Frame: dry stones walls
Building: Christ Church designed by Edward Cook. (Map ref. 907 583) The rose window is yellow to represent the sun rising over the Moor
Feature: skyline of rocks – Troughstones (Map ref. 906 596) and Wicklestone Rocks at Rock End (Map ref  898 568)
Feature: the source of the River Trent (Map ref 905 579)
Trees: Hawthorn
Biddulph Park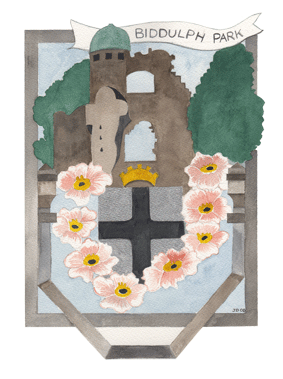 Frame: stone work around the trough in Grange Road (Map ref. 896 605)
Coat of Arms: de Overton, the family which originally owned land in this part of the valley
Building: Biddulph Old Hall (Map ref. 894 602) Please note, the hall is private property
Feature: the Butter cross or Shepherd's Cross (Map ref. 896 605)
Feature: roses to represent the plague which affected families in this and other areas
Trees: Horse Chestnuts
Brown Lees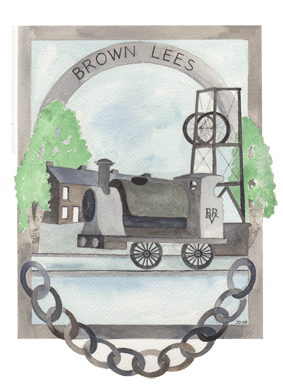 Frame: chain which was made there together with other metal goods
Building: terraced housing built to accommodate local workers (Map ref. 878 558)
Feature:  Locomotive which hauled goods along the Biddulph Valley Railway
Feature: winding gear for the Victoria colliery (map ref. for original site 878 555)
Trees: Silver birch
Gillow Heath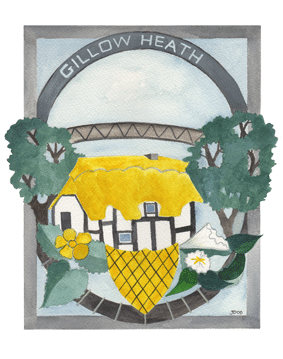 Frame: railway track because of the station which stood here (Map ref. 881 584)
Coat of Arms: Mainwaring
Building: White House, oldest dwelling in the valley (Map ref. 879 581) NB a private house
Feature: bridge which crosses the Biddulph Valley Railway (Map ref. 882 584)
Feature: Buttercups and bindweed which are most common along the Biddulph Valley Walkway
Trees: Oaks (Akesmore Lane – Map ref.  876 577 means oak marsh)
Knypersley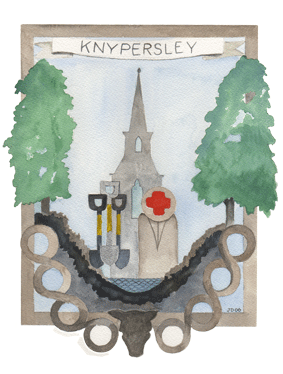 Frame: decorative stonework in Church Hall wall (Map ref. 880 567)
Coat of Arms: de Knypersley whose family owned the land
Building: St John the Evangelist (Map ref. 881 568)
Feature: rocks Knypersley means "rocky meadow"
Feature: water, Knypersley Pool (Map ref. 896 548 ) to be found in Greenway Country Park
Feature: Red Cross, a plague stone in the Church yard. (Map ref. 881 568)
Feature: Bull's head made by Edward Cook as part of decorative feature now in grounds of Knypersley First School and visible from pavement next to top entrance (Map ref. 880 566)
Trees: Limes, planted by Bateman family.