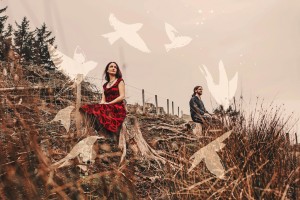 Wednesday 7th March at Biddulph Arms
EDGELARKS 2018 Album Release Tour
(Phillip Henry & Hannah Martin)http://www.biddulphupinarms.com/page2.htm
One of MOJO Magazine's Top Ten Folk Albums of 2017
"a thing of unconventional wonder…seriously lovely…an album of rare individuality and distinction." – Colin Irwin ***** fRoots
"One of the most impressive voices in English folk today…One of the most original albums to come out for some time" ****Songline 
"Their best yet!" Folk Radio UK
Web: www.edgelarks.co.uk
Edgelarks is Phillip Henry & Hannah Martin's most innovative work to date. As well as being their fourth studio album, it also marks the genesis of a brand new band name. Gone are the four personal names from the rather lengthy, previous duo titling. In comes a snappy new single-word name that reflects both of the members of the duo and how they see where they are coming from.
Much of the new album was conceived during the duo's extensive Australian tour of 2016. Although only one song, Signposts, is directly inspired by their time down under, the warmth and new inspiration of their travels can be heard throughout the work on Edgelarks.
Recorded in May 2017 at Cube Studios in Cornwall, songs burnished by tradition fly off down contemporary paths. Edgelarks – to sing about the margins – is an album about transitional spaces. Liminal places, people and times, the straddling of boundaries and thresholds; crossroads and borderlands; travellers and refugees; dusk and dawn. It's about the pause between an old way and a new, the idea that, despite often being places of marginalisation, these are also places of change – and therefore places of hope. It's that, when social norms break down and you are between two established worlds, there is a chance to gain new perspectives. It is also that in the end, we have far more in common than things that divide us, because we are all liminal – we are all standing on the threshold of tomorrow. We are all just passing through.
John Elliott (The Little Unsaid, recent winner of The Steve Reid inNOVAtion award) joins Phil on production duties, bringing a palette of new textures – from the stillness of a muted piano contemplation to a grizzled Moog beat. He added some very interesting touches to the album. On Song of the Jay, for example, he used samples of the call of a jay to create a synthesiser that underpins the track. On Iceberg, he interweaves a field recording of ice breaking. At the end of Yarl's Wood, he incorporates the sound of the "Set Her Free" protests against the treatment of women at the Yarl's Wood detention centre.
The Cornish language track, Estren came about for a number of reasons. While in Australia, they had heard several Australian singers playing Cornish songs – Hannah's family is partly Cornish, she has been going there her whole life, so suddenly it seemed odd that people on the other side of the world were singing these songs but she wasn't! She started researching, and came across the song Estren: not only was it a beautiful tune, but it fit the album's subject matter perfectly; Estren means stranger, and the song tells the story of an American traveller in Cornwall. Not only is he a liminal character, but the Cornish language itself is liminal – as a language that had died, and has been brought back to life through scholarship, it has gone through several incarnations and much debate as to the "correct" form. It is still evolving. Hannah is very grateful for the patience and generosity of Will Halwyn and Frances Bennett, who gave her Cornish lessons! Lukas Drinkwater plays bass on the new album – he also plays with a wide range of musicians, from Emily Barker and Tobias ben Jacob, to Tankus The Henge.
The album does feature several unusual instruments. The one that is completely new to the duo is the pedal powered shruti box – this is a drone instrument, originally from India, and usually played by hand. However, the pedal is key in the live performance context, because it allows the pair to introduce the new texture, whilst still playing all the other instruments. Other unusual instruments that have been used before on previous albums are Phil's indian classical slide guitar, the Chaturangui – which he brought this back with him from his studies under Pandit Debashish Bhattacharya, whom he studied with in Calcutta in 2008. It wasn't used at all on the duo's last album but it features heavily on this one, particularly on tracks What's the Life of a Man, Good Earth, Song of the Jay. There is tabla on Song of the Jay, further enhancing the world music influence. Phil's beatbox harmonica features on No Victory and Iceberg – this is an entirely acoustic technique, where he beatboxes into the instrument. A lot of people mistake this for some kind of pedal-based trickery, but he really is making all the sounds with his mouth!
Phil's range of guitars is also extensive – from electric guitar (reminiscent of 1970s Richard Thompson) on Caravans; to his Weissenborn, on Undelivered. The Weissenborn is a hollow necked lap slide that can be tuned very low, giving a warm richness to the tone. Phil also uses a paintbrush on the strings to create a buzzing drone effect.
Phil and Hannah feel very lucky to play instruments by some extraordinary makers, many of them local to them. Hannah was fortuitous enough to be loaned an amazing viola, by James Stephenson; and also plays instruments from Devon String Workshop and Sonic Violins, from Dorset. The Weissenborn, acoustic and tenor guitars were all made by the wonderful luthier David Oddy (who sadly passed away before he could hear the album).
Biography
Edgelarks fly in on the tailwind of BBC award winning duo Phillip Henry and Hannah Martin. The pair's new project takes the roots of their previous work, from the traditional musics of the British Isles to Indian classical slide guitar to the stomping roots party of Phil's beatbox harmonica; adds a strong stem of original writing; and runs wilder with each repeat play.
The pair began their musical journey together living in a small caravan in the hills near Exmouth, Devon. Phil had just returned, Chaturangui in tow, from studying slide guitar in India with the master musician Pandit Debashish Bhattacharya. Phil and Hannah then met playing in alt-roots outfit The Roots Union, travelling from festival to festival, tent to tent, wandering the highways, byways, and old forgotten pathways of these islands. They followed in the footsteps of the ancient troubadour tradition, picking up tunes, songs and stories along the way. Spotted busking on the seafront at Sidmouth Folk Festival by champion of independent music Steve Knightley, they soon found themselves touring nationally, supporting the likes of Show of Hands and Seth Lakeman, and eventually winning the prestigious Best Duo award at the 2014 BBC Folk Awards.
Extensive international touring followed, from Japan to South Africa, Canada to Australia. Collaborations saw them team up with Peter Knight (ex Steeleye Span) to form the Gigspanner Big Band; and join Show of Hands as part of their Wake the Union band for a very special show at the Royal Albert Hall on Easter Sunday 2017.
From recording their first album, Singing the Bones, at home in their living room in the dead of night, they have gone on to produce three more records, each time refining the process and honing their production skills – Mynd, Live in Calstock, and Watershed (which garnered them a second nomination for Best Duo at the BBC Folk Awards in 2016.).
And now comes the next stage in the band's creative growth and a new identity – Edgelarks. Remember it well. You'll be hearing even more of them in the future.