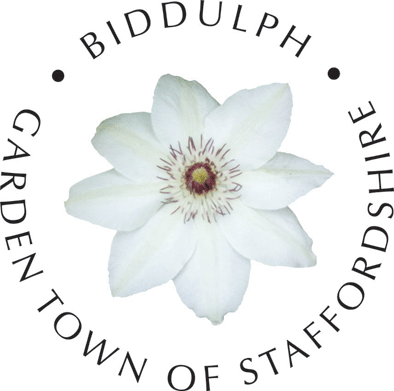 Nestling in a lush, green valley, and surrounded in all directions by outstanding natural beauty, the proud and always welcoming North Staffordshire town of Biddulph invites you to sample its delights.
Open country and moors are accessible by road within five minutes from any given point in Biddulph, and the town has become known as 'The Garden Town of Staffordshire'. From Spring right through to late Autumn, Biddulph is awash with colour. Flower beds, troughs and baskets line the streets with thousands of painstakingly chosen plants, all of which are nurtured locally, and maintained by the volunteer residents group Biddulph in Bloom, which greatly contributes towards the colourful setting of this extremely pretty town.
The Mayor of Biddulph this year is Councillor Oliver McGuinness
If you wish to invite the Mayor to an event, please send requests in writing to the Town Hall in Biddulph, or by email: biddulph@staffordshire.gov.uk Please call 01782 297845 for more information.
Click the logo for information about the Biddulph Neighbourhood Plan
__________________________________________________________________________________
Location of defibrillators in Biddulph here ~ map here
______________________________________________________________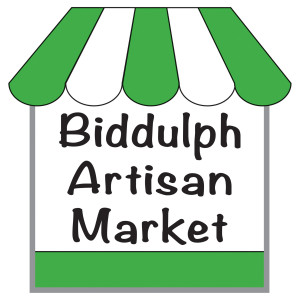 Friday 5th October 2018 , 9am- 3pm High Street, Biddulph
There will plenty of food and craft stalls, new traders and our fabulous regulars!
This Friday is the October Artisan Market in Biddulph and Autumn is well and truly underway! This month we have some great produce to get us in the mood for warm cosy nights at home.
Firstly though a welcome to our new traders to the market local business JWs Holy Smoke – selling a range of hot food all cooked in a wood burning oven at the market. Their range includes something for both meat eaters and vegetarians. They will also have available a range of Gloucester Old Spot Sausages available to buy all supplied from local farm Rushey Hey. "It's time to go back to basics and enjoy a variety of food cooked how mother nature intended. We are JW's Holy Smoke, a unique and quirky food stall offering a variety of food cooked slow and to perfection on a wood burning fire. From Gloucestershire old spot 'fall off the bone' spare ribs to our insane Chicken Wing Challenge. If we can grill it, we will!
We source our food locally and are proud to offer high quality ingredients to create mouth-watering dishes."
Haughton Honey will be returning after trying out the market last month this local producer said "We were born out of a nation's growing appetite for pure, natural foods and honey is the food that we love and live for. All of us believe in what we do and think that it's a worthwhile way to spend our time. We also believe that bee farming works with nature and that what we take out we should try and put back through our partnerships and education."
On the subject of food but for our four legged friends we have a supplier joining us for Skylos High Quality Dog Food.
"Skylos is complete grain free using some of the highest fresh meat content on the market today. Hypo-allergenic biologically appropriate and vet approved. Natural Complete & Balanced. Grain free for those with grain sensitivity/intolerants. Sweet Potato is more suitable than grain and is high in B vitamins.
On the non-food front regular trader Rita The Purple Artisan will be here with all of her lovely crafts plus to help all you home crafters she will be selling a range of craft supplies Card Toppers, Backing Papers, Decoupage Sheets, Rubber Stamps and Embellishments. Please come along browse and chat with this fellow crafter.
New trader Brian from Signature Soaps will be here: Our specialist range of luxurious handmade soaps, shower, bath and body care products are all handmade with the purest of ingredients and are free of SLS and Parabens, to provide you with a product that is gentle, mild, moisturising and conditions your skin. With regard to our handmade soaps we believe there are 5 top reasons for using them:
1. Our handcrafted Signature Soaps blend science with art, integrating traditions with present-day methods. Timeless, simple, straightforward, conditioning and moisturising soaps for discerning skins.
2. Our handcrafted Signature Soaps are made from cooking-quality ingredients, olive oil, coconut oil, shea butter and cocoa butters, seed extracts, botanicals, and are fragranced with essential oils and the best cosmetic fragrance oils.
3. Glycerin, a natural by-product of the soap-making process, moisturises the skin. Most commercial soap manufacturers remove the majority of glycerin. As handcrafted soap makers, we leave the glycerin in the soap to nourish your skin and for a mild and gentle cleanse.
4 Our Handcrafted Signature Soaps are made in small batches, carefully supervised and made to strict cosmetic assessments. Our commitments to quality is evident.
5. Our Handcrafted Signature Soaps are "cruelty free", made from carefully selected vegetable oils and many are vegan friendly. Better for the environment than many commercially-produced products. We only use sustainable palm oil as approved by the Roundtable on Sustainable Palm Oil (RSPO)
On top of this all the regular traders will be here Glebe Farm, The Cheese Counter, Cheshire Pie, Local producer Toast To Roast, Staffordshire Savoury Egg, Castle Gin, JK Fudge, Cheddleton Chicks, Flash Brewery and Select Fish. Artisan traders and crafters Kawaii Toys, Acanthus Glass, Catlynn Leather, Cozy Wren Textiles, LJB Plants, Valentina Candles and Whispers of Wood will be here.
Phew! We hope you can join us for browse a chat and some weekend shopping.